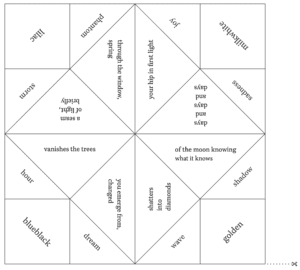 In the February issue of Poetry magazine, there is a poem—well, a verbal phenomenon—in the form of a cootie catcher, or origami fortune teller. You have to cut out the page, fold per instructions, and manipulate it to generate combinations of pre-printed words. I am butterfingered and rusty at this skill, and it took me a while to get things working. When I did, none of the combinations was very interesting.
This gizmo can represent another large realm in the current poetry scene: poems that puzzle but, in the end, cannot please.
The Surrealists started it. They expressly didn't care to please. In their adoption of automatic writing, random devices, and game-like exercises, they were striving for a revolution in thought, indeed in society. If they added new powers to poetry along the way—and they surely did—this was almost beside the point.
Half a century later came the cluster of writers sometimes known as the Language poets. They too sought a kind of liberation, freeing the reader from the bossy presence of the writer with "something to say." (This control-by-the-writer was vaguely linked to capitalism.) This avant-garde championed a poetry that was not only hard to paraphrase but hard to experience. Let the reader do the work of connecting fragments or, at the other extreme, of wading through miles of unrewarding text. These obstacles, it was felt, echoed the way language works, the way life works. To offer an order was to bully, and to lie.
(But isn't this just more of the obfuscation Modernists were often accused of? I say No, because the Modernists, at their most difficult, meant to build houses of language that could actually be lived in. The Language poets scorned this idea.)
Surrealism and Language are no longer news, yet both are very much with us today. Some poets follow the automatic writing path and simply gush, producing about one gorgeous line per page. I prefer that to the post-Language intellectual games I find in the three recent winter issues of Poetry. Along with the cootie catcher, there are poems containing underlined blanks, bidding the reader to supply a key word; poems that leap all over pages, requiring us to decode how the content flows; poems with words grayed out or struck out; poems with several lines of type superimposed. These mechanisms have one thing in common: they invite the (sufficiently patient) reader to enter into a game, to ask for hidden intentions, or to extrapolate a message. But it's all in the head, fodder for the puzzle-solving mind, not the mind that feels and visualizes, and sometimes understands in a new way, because of poetic words.