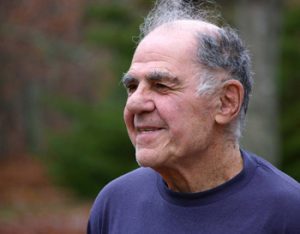 I first knew Simon Perchik, recently deceased, through manuscripts he submitted to Blue Unicorn. However busy we were, his envelopes got opened right away. The BU editors (three of us back then) could count on finding poems that resisted instant understanding, and poems we were very proud to publish. We noted some of his credits—Poetry, The Nation, Partisan Review—and wondered how he made such a mark in an era not especially friendly to uncompromising work like his.
We had no idea how old Si was. I see now that he was born in 1923, nearly reaching the century mark; that he worked until 1980 as an environmental attorney; that he published over 30 books; that Library Journal called him "the most widely published unknown poet in America."
When I wrote him a fan letter, he pointed me to his essay Magic, Illusion, and Other Realities. It is in essence a Modernist tract for the post-Modern era. Unlike prose—"a telling of what the writers already know"—poetry can be a means of exploration. "If the originating idea wasn't hidden and unknown it isn't likely to be an important one. Let's face it: any idea that is easily accessible has already been picked over. It's all but certain to be a cliché."
Perchik describes a demanding practice he developed for himself. "Every day at 9 A.M. I arrive at a table in the local coffee shop, open a dog-eared book of photographs, open a text, and begin mixing all my materials together to find something new." After hours of intense concentration, "an idea from the photograph and an idea from the text will be resolved into a new idea and the poem takes hold. No one is more surprised than I."
Perchik offers this definition of poetry: words that inform the reader of that which cannot be articulated." I'd quibble with that: say rather that another kind of articulation is achieved. He achieved it often.
Si Perchik last submitted to Blue Unicorn last October. Here is the poem that will run in Fall 2022. Like all his later work, it is untitled.
     The words you dead were promised 
     never come—even now 
     what you want to say so much 

     hasn't a chance—deal with it!   your stone
     has no strength left, has room 
     only for your name and the years 

     you took to spell it, to keep the bargain 
     meant for two mouths pressed against 
     the silence, then nothing :the shell 

     songbirds dig holes through 
     sending its light as the small stones 
     side by side telling you why.